FAQ: How to Download WorkLink APPX File from Microsoft Store for Offline Installation
Follow the instructions below to download the WorkLink APPX file from the Microsoft store for offline installation.
To download


Open the website https://store.rg-adguard.net/ (Online link generator for Microsoft Store allows you to get direct links to the APPX installation files of the store apps). Paste the link to the URL search bar and select Retail in the drop-down list

You will see a list of links to the appx installation files and required dependencies. You don't need to download/save all of them. First of all, determine the bitness of your Windows. For Windows 10 x64, you need packages whose names end in x64 (for the 32-bit version of Windows 10, you need to download x86 packages, and for an ARM version of Windows – arm)

To Install
Direct Installation
Install offline bypassing the Windows Store with a simple double click on the appx file.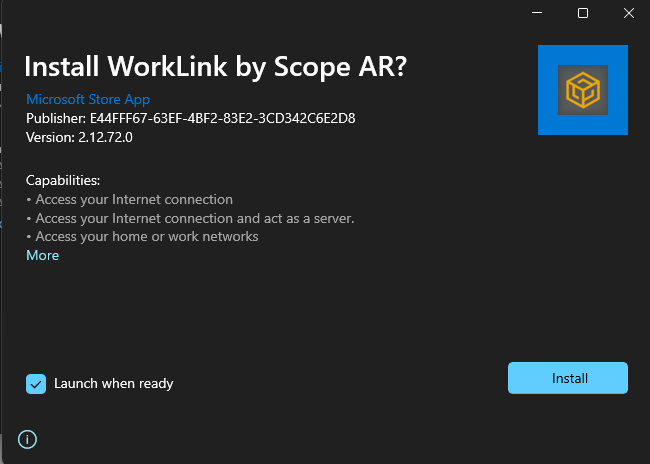 PowerShell Installation
Install the APPX file using PowerShell. Launch PowerShell and paste the path (see below for details)

The APPX file can be installed with the following command (Right click the downloaded file to copy path):

add-appxpackage –path C:\Users\User\Downloads\ScopeAR.RemoteAR_2.12.72.0_neutral_~_qw0sdg9ragx7y.AppxBundle
Check that the WorkLink App is installed and that the WorkLink App icon appears in Windows Start menu.
External ref: https://woshub.com/how-to-download-appx-installation-file-for-any-windows-store-app/