WorkLink Create: How to use the Scene View Settings - Scene Camera/Focus Selection/ Perspective Projection
WorkLink has in scene tools that can help improve workflow. Users can customize their scene view depending on their production needs.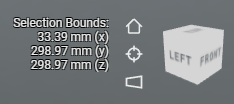 - Resets the scene camera to its default position.

- Move the scene camera so that the selected objects are in view.

- This is for perspective projection. It sets the projection mode to orthographic.
Split Scene View

- This allows you to split and expand the scene view into two separate views vertically or horizontally.
Marquee selection

- This shows the top, bottom, front, back, left and right views of a scene Object. It adjusts the camera view depending on preferred view angle. Click and drag Marquee for available views.
Selection Bounds
- Displays the bounding box size of the current selection. Can be turned off/adjusted under Edit > Preferences > General > Scene View