WorkLink Create: Online Publishing on WorkLink
Unlike Offline publishing, you need access to the internet for Online publishing. Follow the steps below to complete online publishing of your project to the WorkLink App:
Open the project you wish to publish.

Click on the File Menu and click "Publish Scenario" or use the standalone "Publish" button beside project name.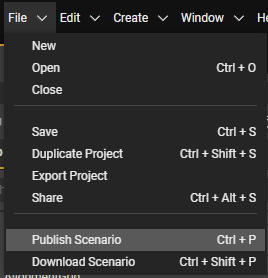 3. Choose Session Type and Select recipient groups (If applicable) >>Publish. Available Session types are: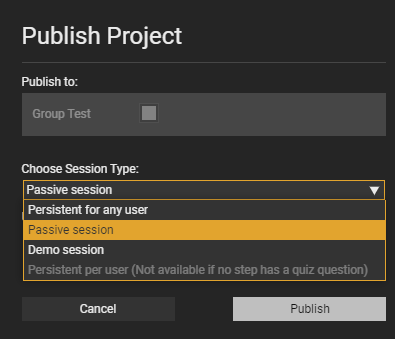 Persistent Session: This allows you to resume a session on the App, if exited without finalizing. Sessions can be resumed by different users. Data and analytics are available on the CMS.
Passive Session: This allows a session to be ended when the user exits the session i.e. session can not be resumed. Data and analytics are available on the CMS.
Demo Session:

This session type lacks the comprehensive data and analytics available in Persistent and Passive Sessions. There will be no record of Step Flow and Step Details. The session overview data will only show Session Start/End Time, Total Time Spent, Modified By, Device Specification and Geolocation.

Persistent per user: This session type will only allow the user that started the session to be able to finish it. It will also limit a user to having only one session in progress for a scenario. For that type of scenario, users will only see sessions that they started. This is particularly useful for quiz scenarios where the user that starts the quiz needs to be the one that finishes it and other users should not see their in-progress session.
4. Your content will now be available for use in the WorkLink App and feature as an Online Project.
Note:
The WorkLink App must be installed on your device to view the Scenario. The WorkLink App is available online (respective App stores) and offline.

Encrypt Scenario - Enabling this option before publishing will encrypt the Scenario file that is sent to the CMS. When this is downloaded to the WorkLink app, the data file on the device is secured by encryption such that it can only be opened by the WorkLink app. Since this file can not be opened without the encryption key, downloads of this version of the scenario file are disabled on the CMS; however, previous unencrypted versions will continue to be available for download.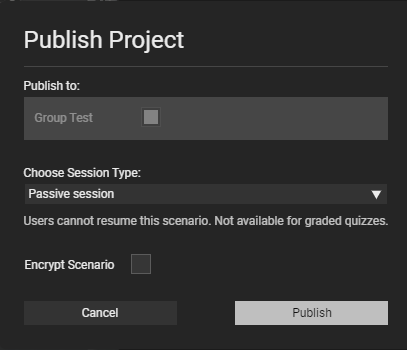 Read more: