WorkLink: Precision Mode/ View Switcher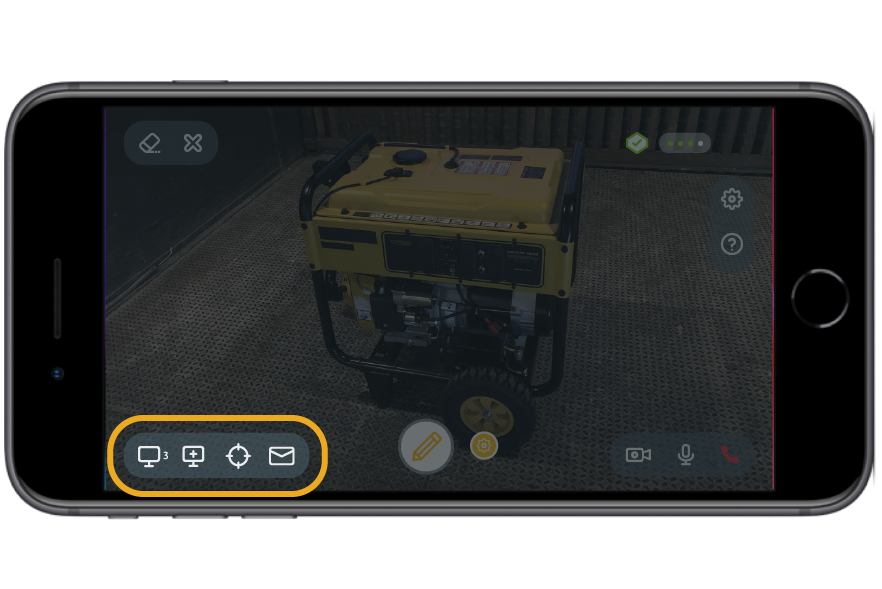 Precision Mode
The precision mode allows you to temporarily 'pause" or "freeze" your view to a high quality still image. Use this mode for easier annotation, as well as more detailed work using the zoom and pan feature.
You can also share these images via email, and store them as views which either user can access and annotate on at any point during the call.
| | |
| --- | --- |
| | When Precision Mode is active, the icon will display in gold. Tap it at any time to return to the live view. |
| | Tap to email the current Precision View to both users. |
| | When in Precision mode, use the Select tool to zoom and pan. For more information see "Zoom & Pan". |
Add View
Add View

button allows you to save a Precision Mode View to the View Switcher. A direct tap on this button will also save a view directly from live video

View Switcher

View Switcher button allows you to switch between any views you have stored during the call using "Add View" and live video.

When additional views have been stored, a badge number will appear next to the View Switcher icon to indicate how many stored views are currently available.
ZOOM & PAN
Select Tool

In Precision View, you can use the "Select Tool" to pan and zoom on the image. With the Select Tool active:

ZOOM OUT/IN:

Pinch and reverse pinch.

PAN:

Drag with one finger

Annotation Tools

In Precision mode, you can continue to use any of the annotation tools on still image.

Please note that annotations will be added to all views (including the live view) as they are created.
USING MULTIPLE VIEWS(The View Switcher)
View Switcher

This screen allows you to navigate between any of the views that have been stored during the call using "Add View" or return to the live video view.

Tap "Edit" to allow the removal of stored views from the call.

Tap the desired view to continue annotating normally on any view.