FAQ: Call session recording is stuck on "Uploading" or "Waiting to Upload" for hours/days
The processing speed of a recorded session depends on the duration of the session, which means that longer sessions will take longer to process.
Here are the causes and recommended solutions for recordings that fail to process 60 minutes after a remote assistance session.
Causes
Low or no internet connection on the Tech/Guest's device during processing.

WorkLink videos may not be uploaded or available to be viewed in the CMS when the recording device (Tech/Guest) has a battery level of below 10%.

The Tech/Guest closed the WorkLink App while upload was still processing.

Tech/Guest may be using mobile data without enabling mobile data support for session recording uploads (For iPhones).
Solution
Make sure you're connected to a stable internet connection.

Charge the battery of your device.

Leave the WorkLink App open after your session. Closing the App when upload is still processing will disconnect transmission of data between your device and CMS.

When using mobile data, the tech/guest should enable mobile data support. The settings can be toggled from the iOS Settings Panel>WorkLink>Use Cellular Data for Uploads.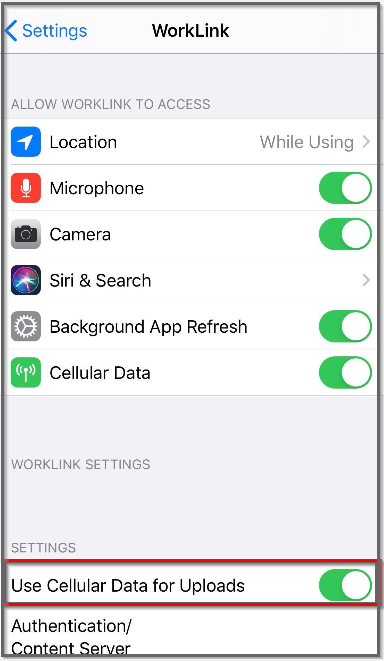 Need help? Contact Scope AR Support.