WorkLink Create: Initial Sequence, Default State and Content Placement Step
The Initial Sequence is indicated with a "Star" icon. It is the first Sequence the user will be directed to. Additional sequences can be added using the +button to the right of the Sequence tab. It's also possible to change the "Initial Sequence" to another Sequence with the right click context menu: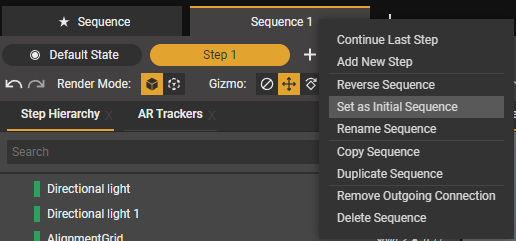 As each Sequence tab is accessed, the steps within it are displayed directly under, in their own tabs depending how many steps are involved within the Sequence. The same Sequences can also be viewed in node form using the "Sequence Editor", accessed within the windows section in the header area.

There are 3 default Steps that are included within each Sequence:
Default State: Content that is placed within the Default State Step will auto-populate in each additional step that is created within that step. Changes made to that content will update/propagate across all steps accordingly.
Content Placement step: This step is unique to the Default Sequence. Content placed in this step is what the User will see at alignment. It provides a visual representation of the subject matter, giving context to the environment that the content is being deployed in.
Default Step: Each sequence comes with a Default first step. The Default step (or any step that is created) can be renamed at any time. Steps can be reordered by dragging either up or down within the Sequence.