WorkLink Create: The Asset Library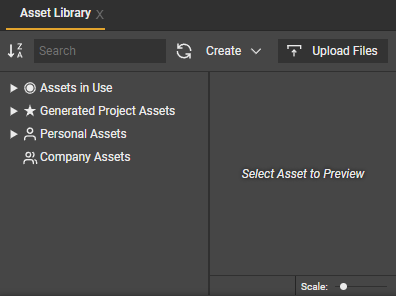 The Asset Library allows you to upload, rename and delete assets/files from your project. Check out how to upload/rename/delete asset files and create a model through the Asset Library.
Asset Library Folders
Assets in Use: A collection of the assets used in the currently active project:



Materials: all materials used on meshes

Tip: You can right click this folder on "Generated Project Assets"



"Delete Unassigned Materials" allows you to automatically delete all materials not actively used on 3D geometry

"Merge Identical Materials" allows you to merge materials that have identical properties.



UI Templates: all templates used in steps for the active project

3D Modles: all 3D Models used in the active project

Images: all images used (in materials, UI or 3D images)

Videos: all videos used (in materials, UI or 3D images)

Tip: you can update/replace assets (3D models, Images and Videos) in your project using the "Replace Project Asset" function.
This will present you a diaglog where you can choose a different different asset.
Doing so will replace all the references to the old asset, with the new asset.



Generated Project Assets: The Materials and UI Templates sub folders can be found in this folder. The Materials folder stores the materials of all models imported into the Asset Library while the UI template folder shows you available UI templates and allows you to edit it. You can also edit the UI template using the UI Editor. To delete an unused material, right click the material and select "delete". You can also rename or duplicate a material from there.

Tip: You can right click the Materials folder to

Delete Unassigned Materials: this will remove all materials that are not directly assigned anywhere in Object Properties.
Merge Identical Materials: this will merge materials that have identical properties, into one single material.


Personal Assets: The Personal Assets folder stores files or assets you personally uploaded to the Asset Library. To create sub-folders in the personal assets folder, use the "Create" option.

Company Assets: This folder contains pre-built assets (supplied by us/an admin). It is also where user shared files are made available to the company. This means any author can share personal assets to this folder, and they are immediately available to all authors in the company. Simply drag and drop to move a personal asset to the company assets folder.
You will find the following options in the Asset Library:
Search: The "Type to Search" box allows you to search for any available file in your project or user/organization folders.

Folders: By default, there are two Assets folders: Personal and Company Assets folders. Each of the folders display the files/materials uploaded specifically to them. All materials are listed under Generated Scenario Assets.

Refresh: This option allows you to keep the contents of your folders up to date, especially after uploading new contents.

Create: You can create a new folder and material using the "Create" menu.

Edit: The "Edit" menu allows you to rename and delete any selected material or asset.

Preview box: The preview box displays the 3D object or material you have selected or currently have in your scene.
The preview box will also show Triangle and Object count for 3D assets.

Tip: This information is also available as a mouse-over tooltip


Size: Drag cursor to adjust the size of the material in the preview box.

Upload Files: This option allows you to upload materials to the Generated Scenario Assets.
Import materials and/or UI templates from other projects
Go to Create > Import Materials And / Or UI Templates From Other Projects


Select a project from the Project list, this will show your own projects, and projects shared with you. It is also possible to import a previously exported project. We recommend projects that were exported as "Project without Assets", to ensure the same assets are referenced troughout your company.


You can choose to select all, or only portions of the import by checking or unchecking the boxes.




Press Import to complete the import process

Your assets will be available in your Generated Project Assets