WorkLink Create: Preferences Window
You can configure the default settings of major functionalities in Create using the Preferences windows. Preferences can be accessed under the "Edit" tab.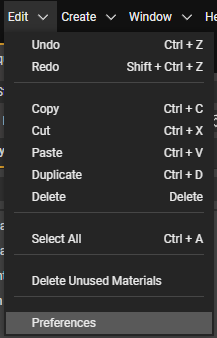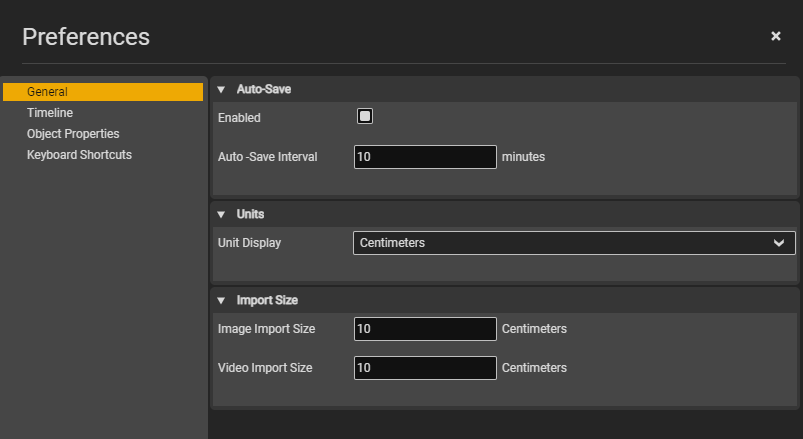 Available Options under Preferences
General
Autosave - Allows you to enable and disable the Auto-save setting. Auto-save interval can be set up in minutes.
Units - Allows you to configure Unit display in Centimeters, Millimeters, Inches, Feet, Yards and Meters.
Import Size - Allows you to set up Image and Video Import size.
Timeline
Timeline Editor - Allows you to set up default timeline and timebar length in seconds.
Timebar Properties - Allows you to set up default highlight sphere color, diameter and object color.
Timebar Display Colors - Allows you to set up colors for Event invocation, object color, fade object in/out. highlight sphere, animation playback, translate, rotate, rotate around pivot, scale, video playback, audio playback.
Object Properties
Callout - Allows you to set up default Callout size and the default Callout Offset.
Sequence Editor
This can be used to enable/disable the display of sequence connections, header connections, options connections, insets connections, cancel connections and connections flow for your project.
Keyboard Shortcuts
This can be used to assign shortcut keys to major tasks in Create. These include: Transform Gizmo, Camera Utilities, Camera Movement, Window, Scenario, Simulation, Timeline and Object Visibility.